We are proud to announce the teams that will participate in the Proefdiervrij Venture Challenge 2023. Besides learning to develop a business plan for their animal-free model, one of the teams will also be the winner of the Proefdiervrij Venture Challenge 2023 and win a wonderful cash prize! We would like to introduce the teams to you.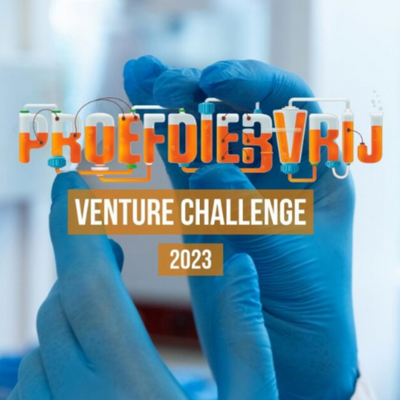 What is the Proefdiervrij Venture Challenge?
In the challenge, four teams of animal-free researchers are guided in setting up their own company, transforming their scientific breakthrough within the life sciences into a well-thought-out business case. This is how we increase the impact of animal-free research and accelerate the transition to a world without the use of laboratory animals.
ARTIC
ARTIC focuses on commercialising a technology called Magnetic Artificial Cilia (MAC). Cilia are the vibrating hairs found in a number of places in our body, including the lungs. Here, the cilia take care of cleaning the lungs by moving mucus in the lungs. The magnetic, artificial cilia can be used for organs-on-chips or cell culture dishes, which can be used in drug research. A changing magnetic field can move these artificial cilia in a controlled manner.
Traditional systems used to grow cells cannot mimic the complex biology of the human being. These are therefore less suitable to replace laboratory animals in drug research. This wonderful technology enables better, more complex cell culture systems that can replace the use of laboratory animals.
ARTIC researchers: Jaap den Toonder, Hossein Eslami Amirabadi en Laure van der Sanden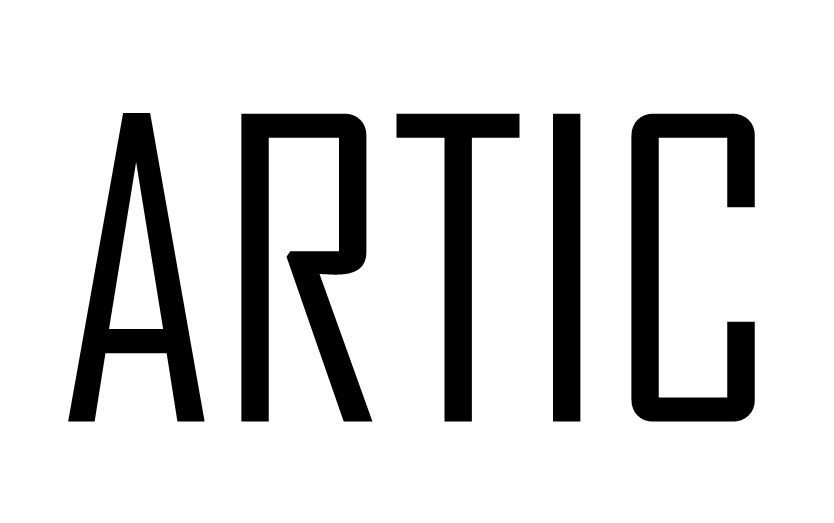 Chippoids
Chippoids is developing a unique multi-organ-on-chip system of the kidney and liver, for which the researchers use human organoids, and at the same time they are also developing a bloodvessel-on-a-chip. With these advanced models, researchers can develop disease models and drug efficacy and safety can be investigated based on human biology. This will ultimately lead to better translation of drug research to humans. And as a result, fewer laboratory animals will be needed for this kind of research.
Chippoids researchers: Bas van Balkom, Christian van Dijk, Tjeerd van Dijk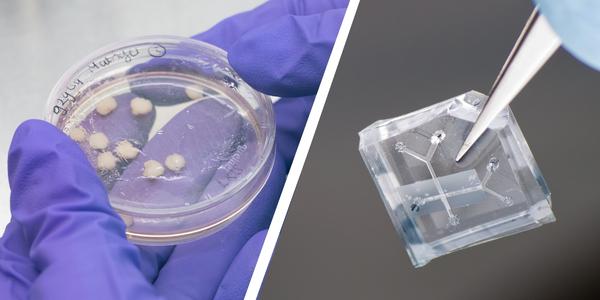 Fybrix
In order to grow human cells in a culture dish, a hydrogel is often used; this gel provides an environment similar to the human body and allows the cells to grow in the most realistic way possible. Matrigel is the standard choice to use in research; this is a hydrogel made from mouse tumours. Fybrix developed a completely artificial alternative to Matrigel. This has a two-fold effect on the use of animals in science and industry: eliminating the use of animal products such as Matrigel and reducing animal testing in drug development by providing a more reliable hydrogel for cell growth, which will ultimately lead to more realistic models.
Fybrix researchers: Lotte Gerrits, Paul Kouwer, Antoine Wellink
VEO
VEO stands for Viral Experts Organoids. VEO is using human organoids to research antiviral drugs in order to increase the success rate of drug development and provide solutions for personalised virus medicine. The organoid is a powerful and promising tool for this purpose, as it opens up the possibility of studying viruses in a way that closely resembles natural infection. The vision of the VEO expert team is to widely deploy organoid technology for human disease and preclinical virus drug research, and in doing so to replace laboratory animals (like mice) used in this type of research.
VEO researchers: Giulia Moreni, Inés García Rodríguez, Adithya Sridhar, Dasja Pajkrt, Angelica Reitsma, Carlemi Calitz
Proefdiervrij Venture Challenge Procedure
The teams of the Proefdiervrij Venture Challenge will start their first workshop on February the 15th 2023. On April 21st , 2023 the winning team will be announced and the award ceremony will take place. The winning team will receive €25,000 from us to further develop their startup!
The 2022 winning team was Anya Biotech. Dr Harsha Devalla of Anya Biotech enthusiastically commented:
"We are very happy to win the 2022 edition of the Proefdiervrij Venture Challenge. Participation in this challenge has provided us with a strong foundation to translate our state-of-the-art science into a biotech venture and we look forward to taking it further."
Good luck to all teams of the Proefdiervrij Venture Challenge 2023!
Maybe you would also like to read this