And the winner of the Proefdiervrij Venture Challenge 2022 is… Anya Biotech! Congratulations to this fantastic team that is developing animal-free research models with human heart cells in a culture dish. And the GenomeTox team is the crowd favourite and has won the audience award.
In this article you can read more about these great start-ups and how they increase the impact of innovations without the use of laboratory animals; and thus contribute to a world without laboratory animals.
Increasing the impact of animal-free innovations
In the last weeks, six teams worked hard during the Proefdiervrij Venture Challenge to turn their animal-free innovations in the life sciences into a company. These teams not only ensure innovation within science, but also bring us closer to a world without animal testing. Last Friday, in honour of laboratory animals and right before World Laboratory Animal Day, the teams shared their business plans with the jury and the public, and the winner was announced.
Anya Biotech takes off with the big prize
Anya Biotech is the winner of the Animal Free Venture Challenge! Harsha Devalla, Marc Roelofs and Sander van Leeuwe of Anya Biotech develop animal-free research models with human heart cells in a culture dish with great passion and commitment. They replace the use of laboratory animals in heart research and develop good, people-oriented medication for life-threatening heart diseases. Anya Biotech received €25,000 from us to further develop their start-up!
The Audience Favourite: GenomeTox
The audience members that attended the Proefdiervrij Venture Challenge on Friday could also vote for their favourite team before the overall winner was announced. The winner of the public award of the Proefdiervrij Venture Challenge is GenomeTox. Congratulations! GenomeTox studies, in an animal-free way, whether certain substances can damage the genetic information in human cells and whether this can cause cancer.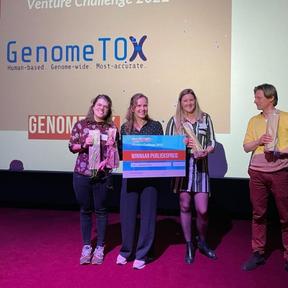 Proud of all the teams
We are very proud of all the participating teams of the Proefdiervrij Venture Challenge: Anya Biotech, GenomeTox, chiron, inSteps, Nestegg Labs B.V. and Simplexable. You can read more about the teams here. And we are very happy with the wonderful animal-free initiatives of these teams that contribute to a future without laboratory animals!
Anya Biotech is a well-deserved winner, with their wonderful solution for animal-free heart research. I'm also very proud of the other teams! And I am very happy with the pleasant collaboration with the participants. It was great to meet many different researchers and professionals during the presentation of the Proefdiervrij Venture Challenge and to work together towards a world without laboratory animals!- Saskia Aan, Adviseur Wetenschap & Innovatie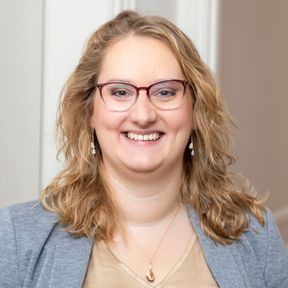 Maybe you also want to read this: